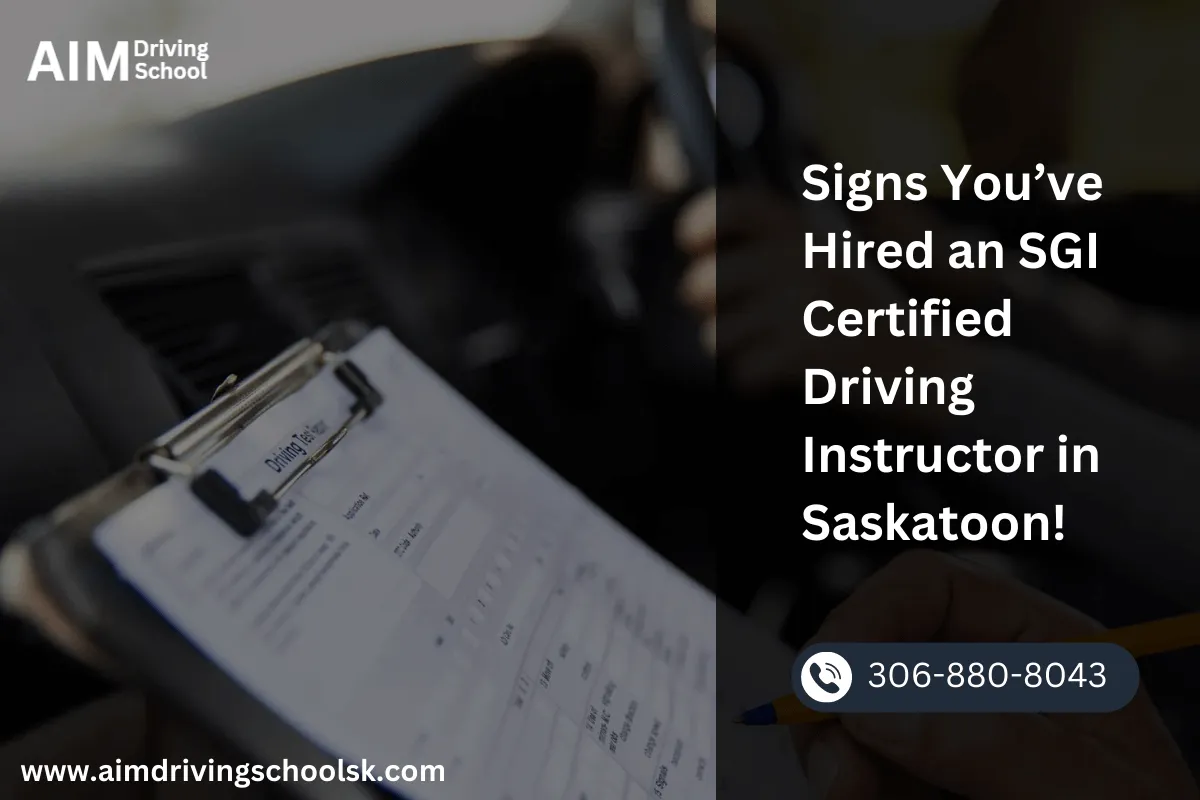 Today we are going to discuss the signs of hiring an SGI Certified Driving Instructor in Saskatoon. The process of learning to drive is quite an exciting thing. Being able to drive a car opens up several opportunities, and you can get rid of waiting for public transportation for hours.
Therefore, driving is also a huge responsibility that requires expertise and skills to avoid unnecessary hazards on the road. So, the driving instructor you choose can make or break a deal. A professional driving teacher always helps you make the right decisions on the road.
So, this blog post will walk you through a list of signs to determine whether you have hired an SGI-certified driving instructor in Saskatoon. Read on to learn more!
Table of Contents
4 Signs You've Hired an SGI Certified Driving Instructor in Saskatoon!
Communicates Clearly
It is no doubt that operating a vehicle's moving parts for the first time in your life can be overwhelming. And that is why you need a driving instructor who will ease your stress and make you feel inspired to learn upcoming lessons.
If the driving instructors have proper communication skills and help you learn essential steps in a fun way, it is the first sign of an SGI-certified instructor.
Manage Stressful Situations
When we learn anything new, mistakes can happen anytime. And sometimes, stressful and difficult situations arise, and you can face problems mastering a skill, which can make you feel discouraged and frustrated.
When you notice the driving instructor helps you improve your driving skills and does not make you feel ashamed, it is another sign of their professionalism.
Creates an Effective Learning Atmosphere
If a driving instructor has enthusiasm and passion for their job, each student will be excited to show up in the class and reach their goals. For this reason, creating an effective and professional learning environment is necessary.
So, another sign of a professional driving instructor in Saskatoon is someone who makes the learning environment a warm place. This way, you will feel relaxed to ask questions to solve your queries.
Read More: 10 Services Provided By Best Driving Instructors In Saskatoon
Right Personality
It is necessary that a driving teacher holds the proper certifications like an SGI certificate. The professional personality of an instructor always applies effective methods to teach you driving. So, if you don't feel excited to learn driving, it is time to change your instructor.
Wrapping Up!
Hopefully, the above-discussed signs of a reliable and SGI-certified driving instructor in Saskatoon will help you determine whether you have hired the right instructor. Also, if you are looking for a reliable driving instructor, we can help you! For more info, stay in touch! Visit our blog page for latest updates related to driving lessons.